Complex Commercial Litigation
Insurance Litigation
Aviation Litigation
Product Liability Litigation
Professional Liability Litigation
Real Estate Litigation
Premises Liability Litigation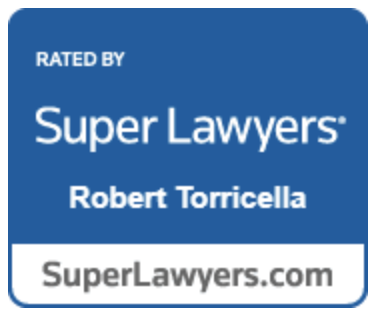 Robert, who has been practicing law in South Florida for 30 years, founded TorricellaLaw to pursue a practice that allowed for more personal service to the firm's clients, while providing a family environment to its lawyers and staff. Based upon the recommendation of peers in the industry, Martindale Hubbell has rated him AV Preeminent® for his work in aviation, business, construction defect, general liability, products liability, professional liability, premises liability and real estate litigation for twenty consecutive years. He has maintained that rating for 20 years – every year that Martindale Hubbell has rated him.During his career, he has litigated matters arising from both domestic and foreign incidents, including serving in oversight and intermediary roles liaising with foreign counsel handling criminal and civil investigations, as well as related civil litigation in matters that ultimately may be pursued in courts in the United States. He is best known for his representation of ExcelAire and its pilots in the aftermath of the 2006 crash of GOL Airlines Flight 1907. He also oversaw and managed investigations and foreign litigation connected to an industrial furnace explosion in Sao Paulo, Brazil, resulting in wrongful death, personal injury, and property damage claims. During his career, he has handled a broad range of commercial and civil claims, including aircraft repossessions, fraud and theft claims, product failures, multi-party construction defect actions, breach of contract claim, breaches of consignment relationships, premises incidents, and claims against professionals, among others. He also has handled sensitive matters that his clients have deemed to require high-level negotiation and personal interaction skills, as well as creative approaches to claims resolution.
Robert was inducted as a Fellow of the Litigation Counsel of America, an honorary society of trial lawyers and was named to the lists of South Florida's Top Rated Lawyers and to the 2021 Florida Super Lawyers, an honor reserved for less than 2.5% of lawyers practicing in the state. He is a married father of two and he and his family are active in the South Florida community, particularly in charities focused on children with autism and other special needs and their families.
University of Miami School of Law, Coral Gables, Florida

J.D. – 1991
Honors: cum laude
Honors: Moot Court Board, Society of Bar & Gavel, Phi Delta Phi

University of Miami, Coral Gables, Florida

B.B.A. – 1988
Major: Business Law
AV Preeminent® Peer Review Rated by Martindale Hubbell for 20 consecutive years
Senior Fellow of the Litigation Counsel of America
Recognized as among "America's Most Honored Professionals 2016 – Top 1%" by The American Registry
2021 SuperLawyers
2021 Who's Who in America
Florida
U.S. District Court Southern District of Florida
U.S. District Court Middle District of Florida
U.S. Court of Appeals 11th Circuit
Babalu Aye Is Not Pleased: Majoritarianism and the Erosion of Free Exercise, 45 U. MIA. L. REV. 1061, May 1991
Professional Associations
The Florida Bar, Member
The American Bar Association, Member
Cuban American Bar Association, Member
Dade County Bar Association, Member
Coral Gables Bar Association, Member
Litigation Counsel of America, Member
Aviation Insurance Association, Member
Greater Miami Aviation Association, Member
Case Study on IAL Aircraft Holding, Inc. v. Federal Aviation Administration and litigation to compel aircraft registration, Seventh Annual FAA Aircraft Registration, Lien and Security Interest Conference, Strategic Research Institute, New York, February 2000
Criminalization of Aviation Accidents, RTI AViCON Aviation Insurance Claims Conference, 2016
Parallel Investigations by Civil, Military and Criminal Authorities in the US and Abroad, American Bar Association, 23rd Annual National Institute on Aviation Litigation, 2017
Experts' Advice on Expert Selection: Criteria and strategy – Differing Opinion and Fake News, American Bar Association, 24th Annual National Institute on Aviation Litigation, 2018
Managing Disaster – Rational Responses to Foreign Accidents and Criminal Charges, 2019 NBAA Business Aircraft, Finance and Registration Conference, 2019
Lessons from the Amazon: In-Country Emergency Response in the Foreign Air Accident/Incident Case, 2019 Aviation Insurance Association Annual Conference, 2019
Represented a charter operator and its pilots in connection with their response to a foreign air crash, including directing the retention of and liaising with foreign legal counsel in managing the legal response to the accident, participating in the management of the response to and involvement in civil and criminal accident investigations, direction of media and public relations efforts and oversight of security issues.

Represented aircraft owner and lessor through appeal in litigation arising from a flag carrier's breach of multiple aircraft lease and related commercial agreements, securing a multimillion dollar judgment, along with interim relief involving the freezing of bank accounts and post-judgment relief, including garnishment of bank accounts.

Represented a commercial lender in connection with its litigation and management efforts concerning a portfolio of commercial loans and assets.

Successfully secured the repossession of two transport category aircraft and nine jet aircraft engines following a cargo carrier's defaults under several aircraft and engine lease agreements, obtaining an ex parte order of repossession and seizing the aircraft and engines at Miami International Airport.

Defended a product manufacturer and its employee in connection with an industrial accident in Brazil, including oversight of the legal response to claims presented in the courts of Brazil and litigation of wrongful death, personal injury and business damage claims filed in the United States.

Represented ground handler in litigation concerning multiple wrongful deaths following an air crash involving an air carrier operating in the Caribbean.